Welcome
Welcome to Try.Hyland, a website dedicated to providing hands-on access to live software. Here, you can quickly learn about Hyland offerings and see how they can be used to address various business challenges. The software configurations found on this website are only examples and do not reflect every potential option for how a solution could be configured. If you would like to see a custom demonstration based on your organization's need, please contact your account manager, or click the Contact Me button found throughout the site. We're also always in the process of adding new content.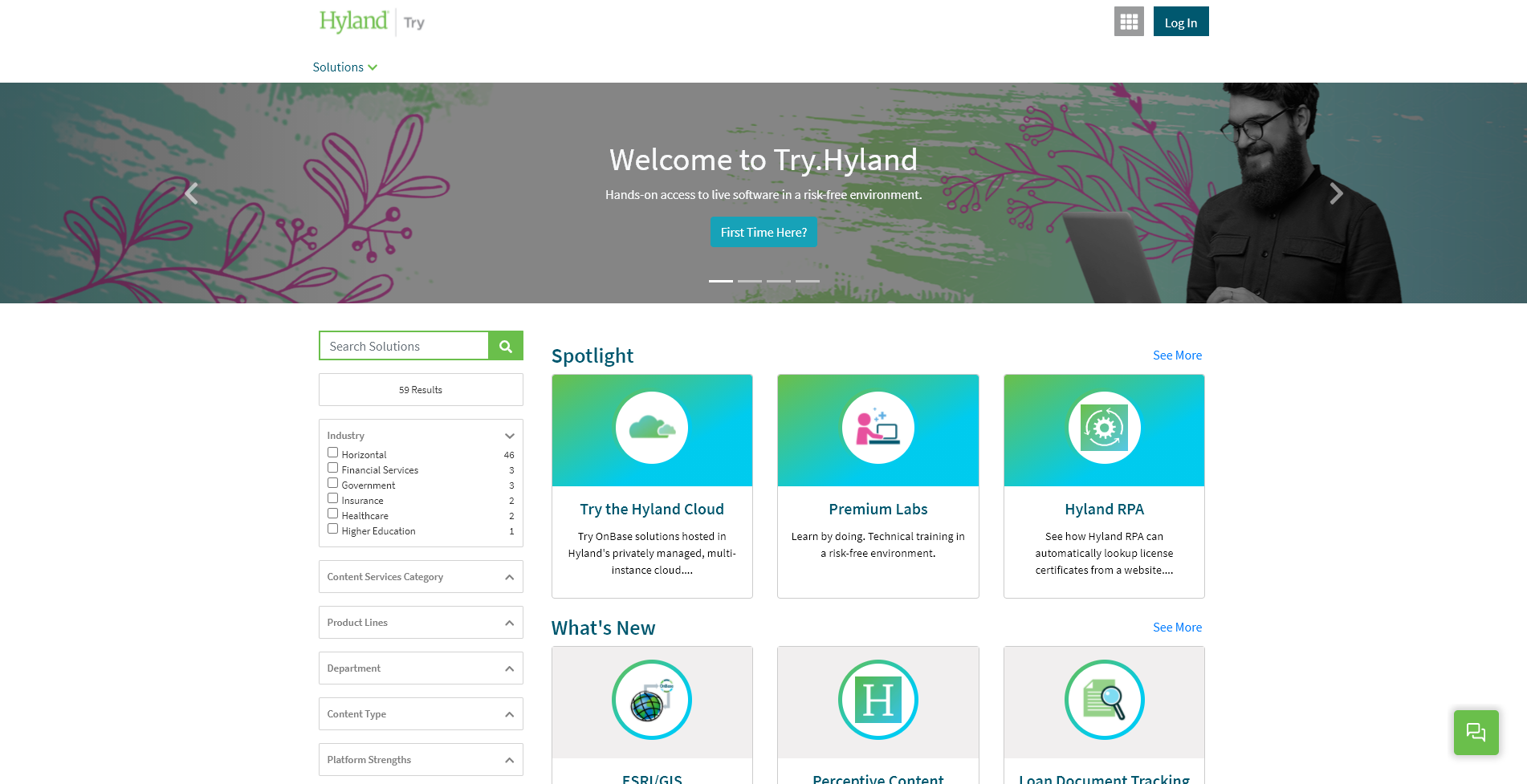 Register for a Hyland ID
While Try.Hyland is publicly visible, most of the site does require a login in order to take full advantage of its resources. Registering for a login is easy however. Simply follow the steps below.

1) Navigate to https://id.hyland.com/signin/register.
2) Fill out the web form with your information and click register. You will receive an email notification with steps on how to proceed.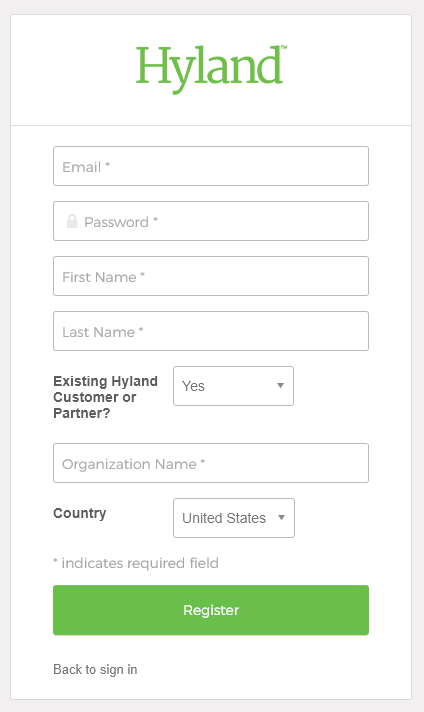 Hyland Exchange
The Hyland Exchange is our curated showcase of downloadable configurations and examples.

These pre-built files can help you springboard a project that you have or help you explore ways to solve different business and technical needs that your organization has. Some of the things you can find on the Hyland Exchange include our "concept solutions" and example integrations to third party products.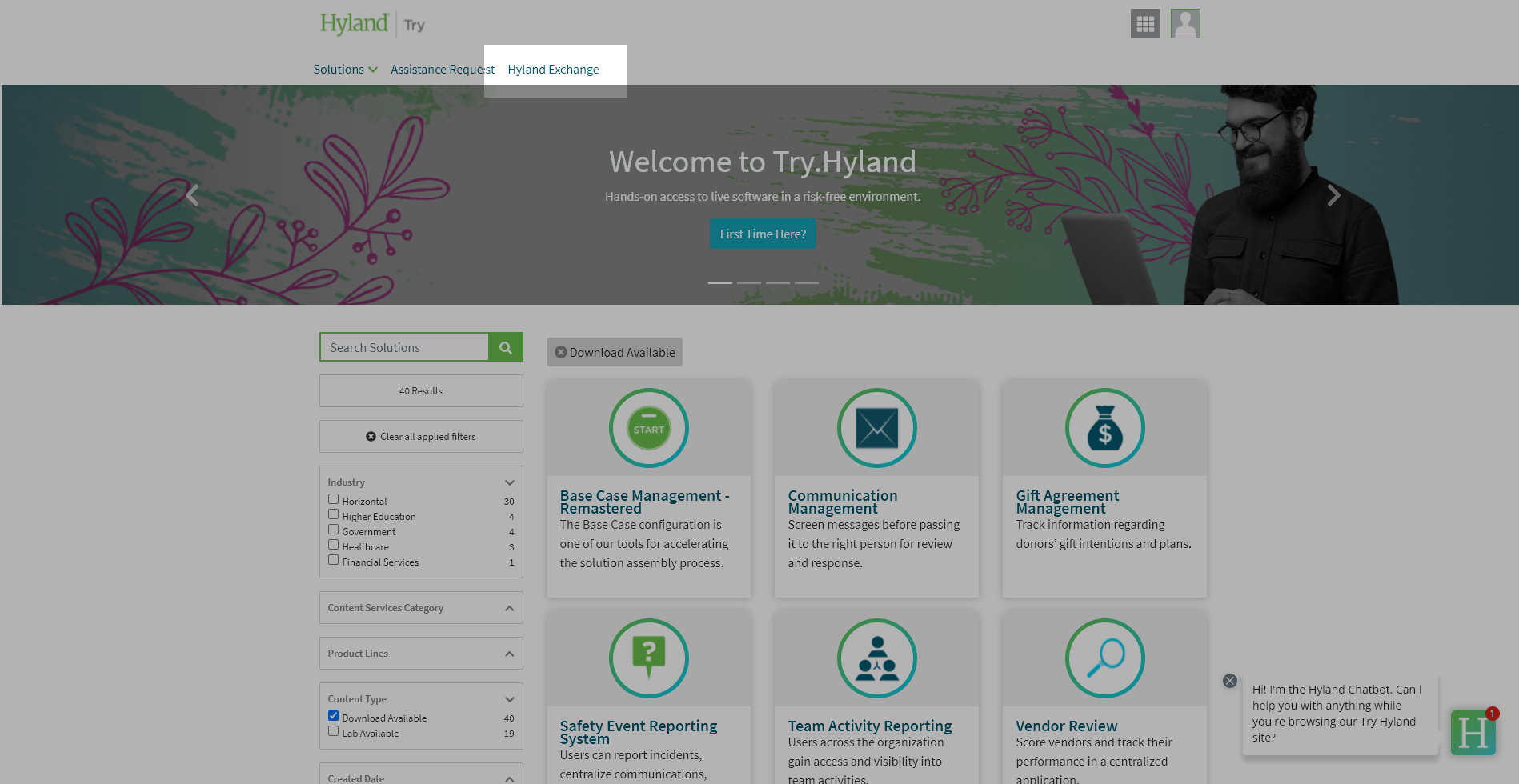 In addition to the solution export, each solution also contains screen shots, an import guide (for configurations that require environment-specific details), and a list of prerequisites.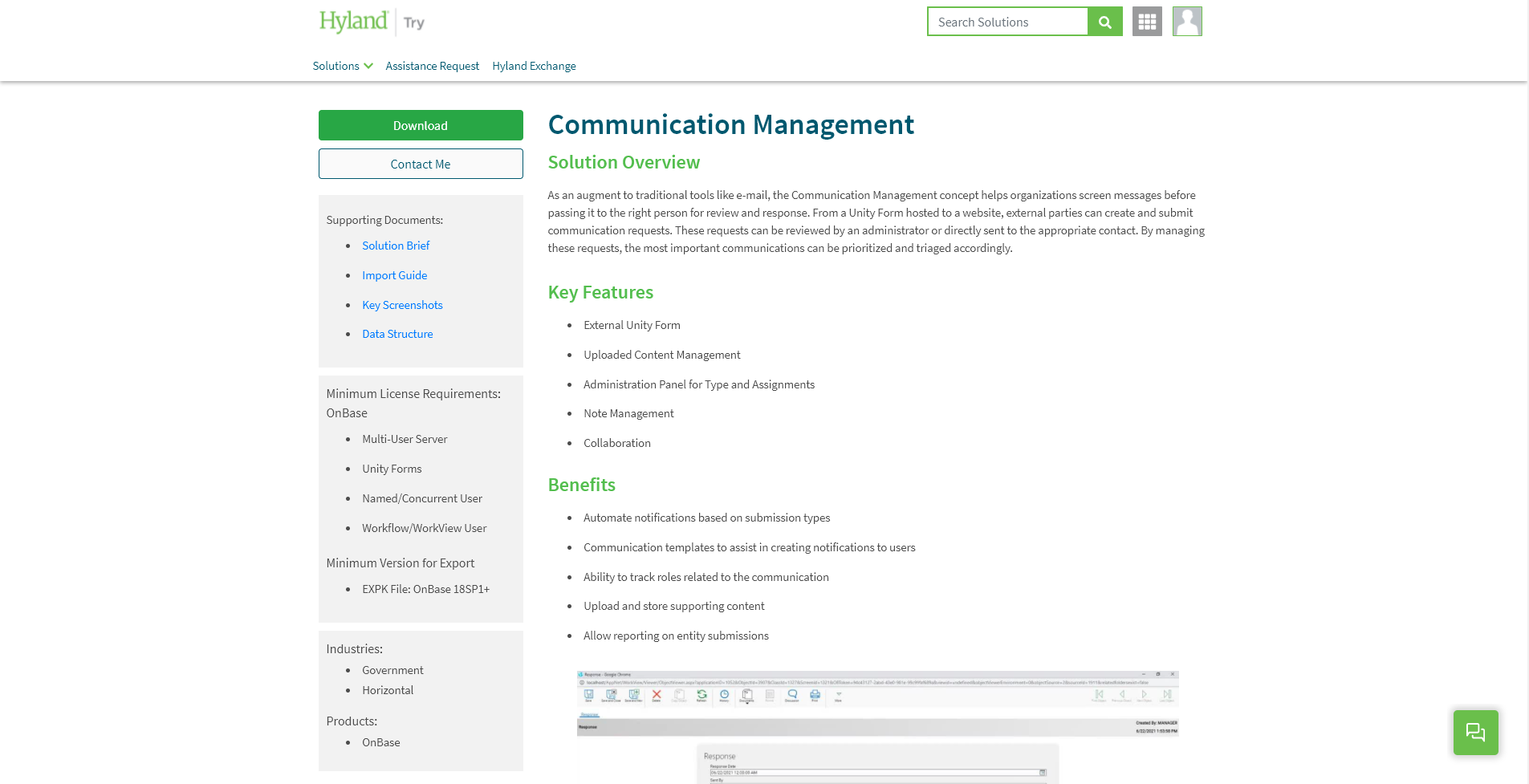 Announcements
Users can also subscribe to Try.Hyland Announcements which are sent sent each time a new solution or feature is added to the site. Please note that announcements are only to logged in users.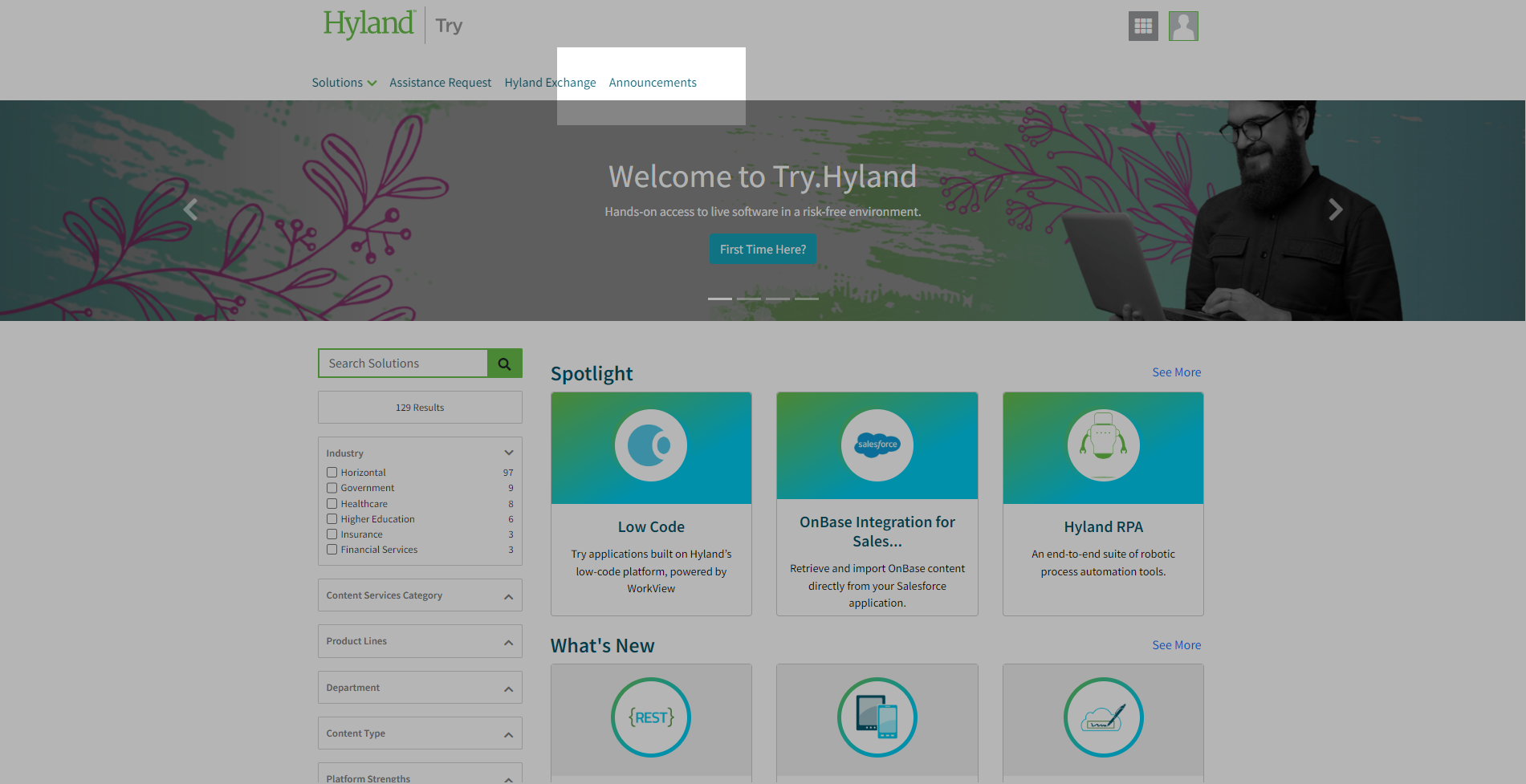 Simply click the subscribe button to start receiving future notifications. Please note that announcements are only available to users that are logged in.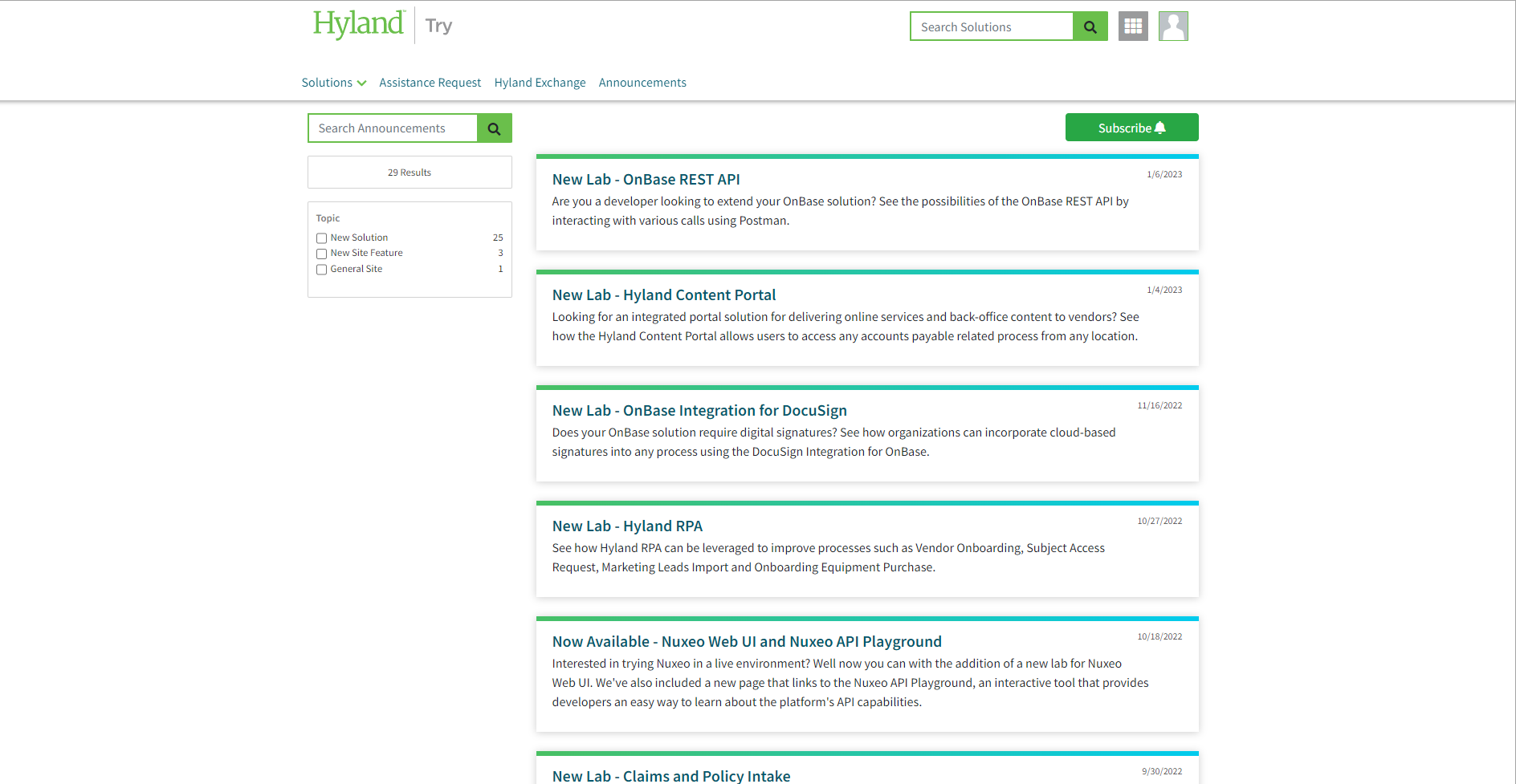 Need Assistance?
Assistance Requests
Have a question or running into a challenge on the site? Submit an Assistance Request and a team member will reach out to assist. Please note that the assistance request only applies to Try.Hyland.com. If you are looking for assistance related to your production, test or QA/UAT environments, please contact your first line of support.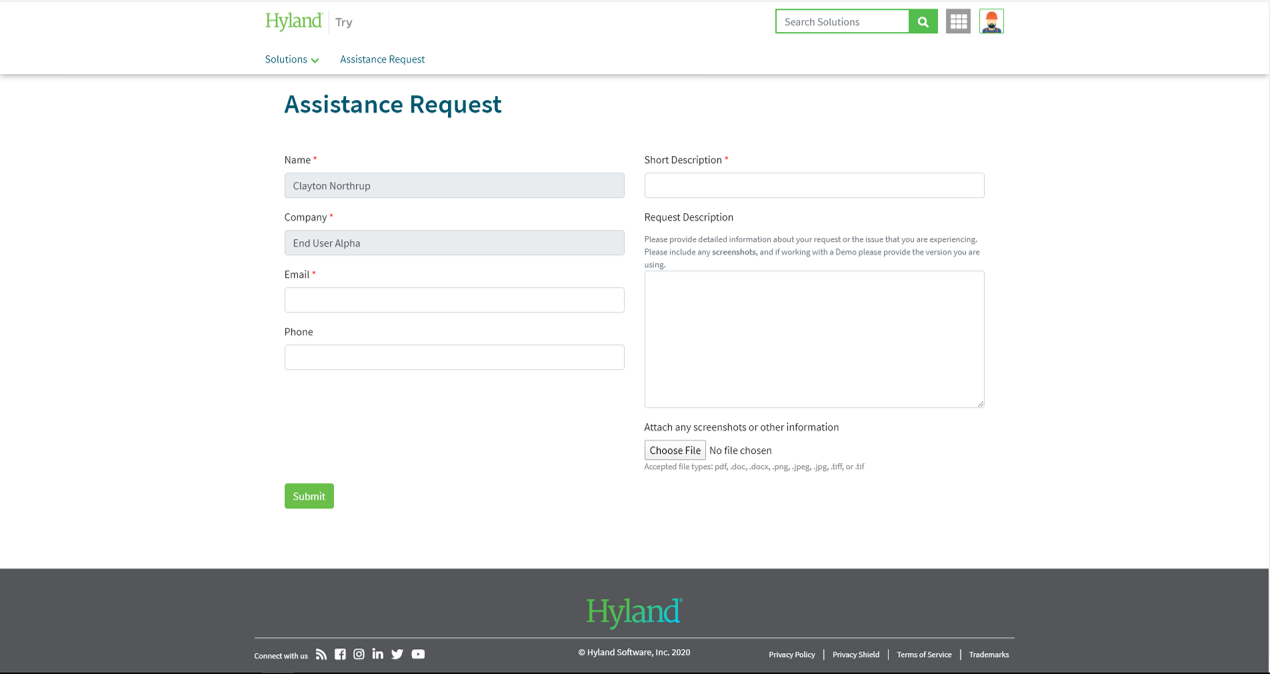 Frequently Asked Questions
Login/Access
The Hyland ID is the single account that allows users to access Try.Hyland.com, Training.Hyland.com, and the Hyland Community (site access may vary based on user's role). While a Hyland ID is not required to view Try.Hyland, one is required to access anything beyond the landing page and search results pages.
No. The Hyland ID is a single account that determines permissions for all three sites. Users that already have a Hyland ID can login with the same credentials and should not request a separate account.
I'm looking to do X on Try.Hyland
Unity Forms (OnBase)- Learn about the benefits of Unity Forms through hands-on experience. In this course you will be introduced to Unity Forms configuration. Add both keyword and non-keyword fields to a form, work with AutoFill Keyword Sets and Cascading Data Sets, and go over line items, drafts, themes and publishing.

Workflow (OnBase)- You've heard how using Workflow can transform your OnBase solution, but have you ever had the chance to be a part of the configuration process? If not, get your first hands-on experience with Workflow with this course. This lab will go over the initial set-up of a life cycle.

WorkView (OnBase)- You've likely heard about Hyland's low-code application building capabilities, but have you actually seen how easy it is to build an app? Build your first application and see how a platform like OnBase can be used to support the changing needs of your business.

Workflow (Perceptive Content)- You've heard how using Workflow can transform your Perceptive Content solution, but have you ever had the chance to be a part of the configuration process? If not, get your first hands-on experience with Workflow with this course.
Yes! The "Try the Hyland Cloud" page contains solutions that are hosted in a live Hyland Cloud environment. The tool can be leveraged to answer questions like "What will it look like for my end users to connect to the cloud?" and "What can I expect performance to look like for common tasks like uploading/retrieving documents, submitting forms, and executing workflow tasks?"

Learn more about the Try the Hyland Cloud solutions.
Yes! The Concept Solution Library page contains solutions that were build using Hyland's low-code app building tool, WorkView. On this page you can see several examples of apps built using WorkView and can even learn how to begin building your first application as well.

Learn more about the Concept Solution Library.
Site Content
In most cases you will see at a minimum the latest LTR (Long Term Release) available on the site. There will also be instances where the latest EP (Enhancement Pack) will be available.
Requesting Assistance
You can either use the Contact Me button on the site or contact your account manager for a custom demonstration. Please note that a discovery call may be necessary to gather additional business requirements.
Other
Feedback is always welcomed, and we greatly appreciate you sharing your thoughts. While we cannot commit to guaranteeing that all feedback is incorporated into the site, we do strongly take into consideration the ideas of all audience members and aim to provide a better experience for everybody. To submit feedback, please submit an Assistance Request .