Integration for SAP SuccessFactors
Summary
The OnBase Integration for SAP SuccessFactors seamlessly links employee records within SAP SuccessFactors to corresponding documents and content stored within OnBase. A simple click from the employee record launches an intuitive OnBase dashboard to capture, view and execute tasks on employee documents, all from familiar SAP SuccessFactors screens. Missing documents are flagged and can be easily uploaded from the employee record in SAP SuccessFactors, ensuring document compliance related to critical HR processes. Embedding OnBase content management capabilities directly within SAP SuccessFactors removes document silos and provides users with a complete view of the employee file.
Benefits
Accelerate HR processes with OnBase content management functionality embedded directly within the SAP SuccessFactors user experience
Ensure compliant and secure storage for employee files with a central repository for employee content accompanied by OnBase retention and governance processes
Enhance employee experience and productivity by providing a complete view of an employee's documents alongside their record, without having to leave SAP SuccessFactors
Maximize SAP SuccessFactors business value by allowing users to effectively perform all HR file management functions directly within the application
Design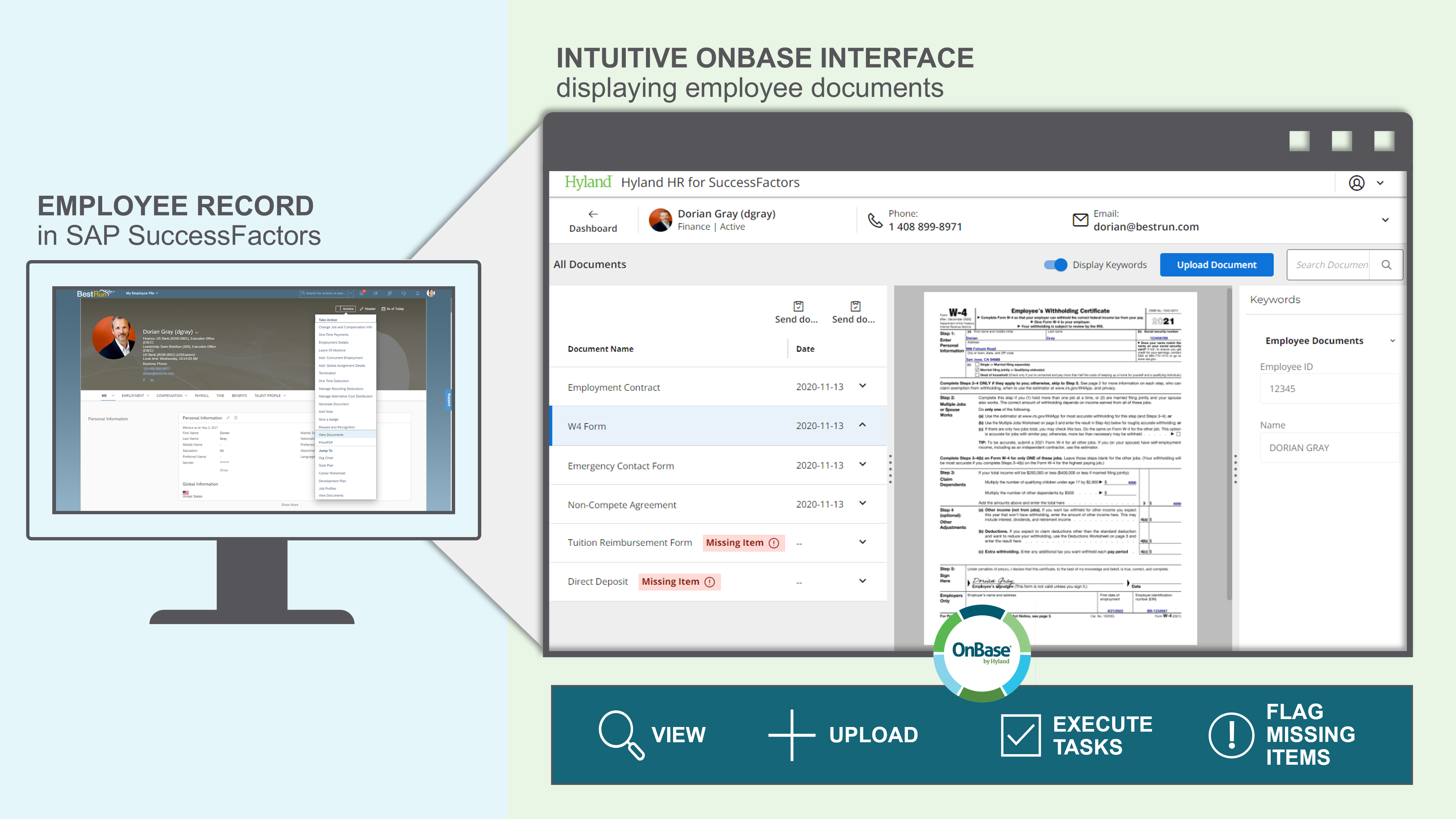 An intuitive and modern OnBase interface is launched from an employee record in SAP SuccessFactors,
providing the ability to view and upload OnBase content, execute Workflow ad-hoc tasks and
proactively identify items that are missing from an employee file.
Applications
Employee File Management is simplified by pairing the employee data managed in SAP SuccessFactors with the documents that accompany an employee file managed in OnBase. All content associated with an employee can be easily displayed alongside the record in SAP SuccessFactors, providing a complete view of the employee file and enabling HR partners to better support their employees.
Employee Life Events that require supporting documents to be submitted are easily managed from an employee record. Employees simply navigate to their employee record within SAP SuccessFactors and drag-and-drop or click to upload their new documents.
Document Compliance is supported through the missing document feature that allows HR employees to proactively identify missing documents that may be required for compliance purposes. Employees can also check their own document list to ensure compliance with company policies.
Interface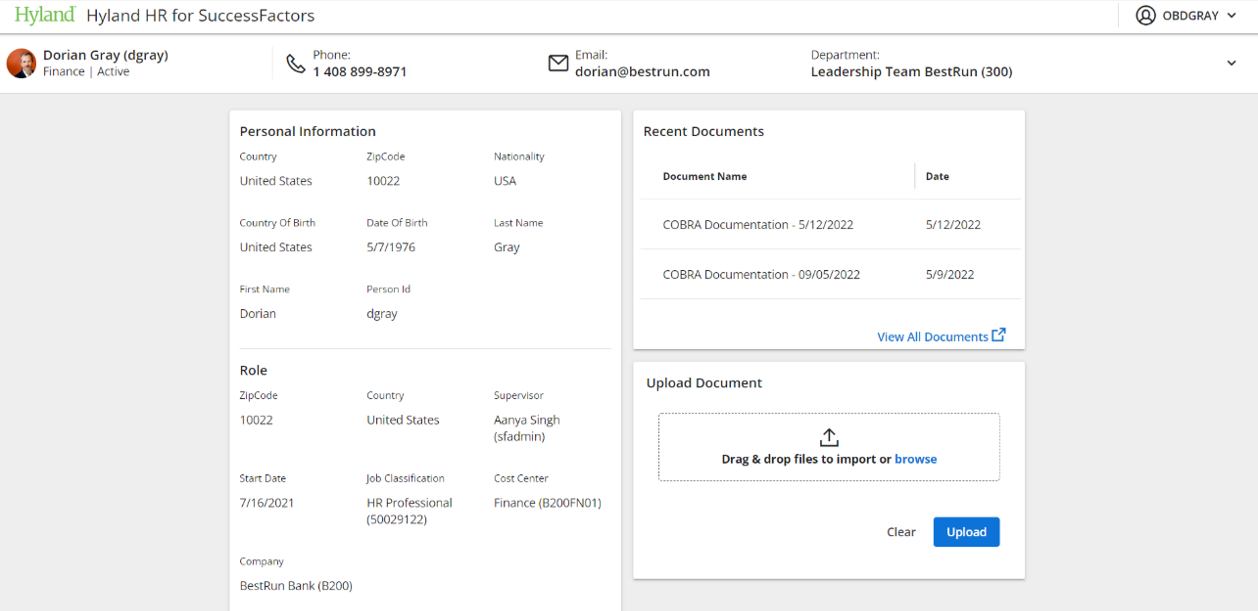 Displayed from an employee record in SAP SuccessFactors, this configurable dashboard
allows users to view and upload employee documents.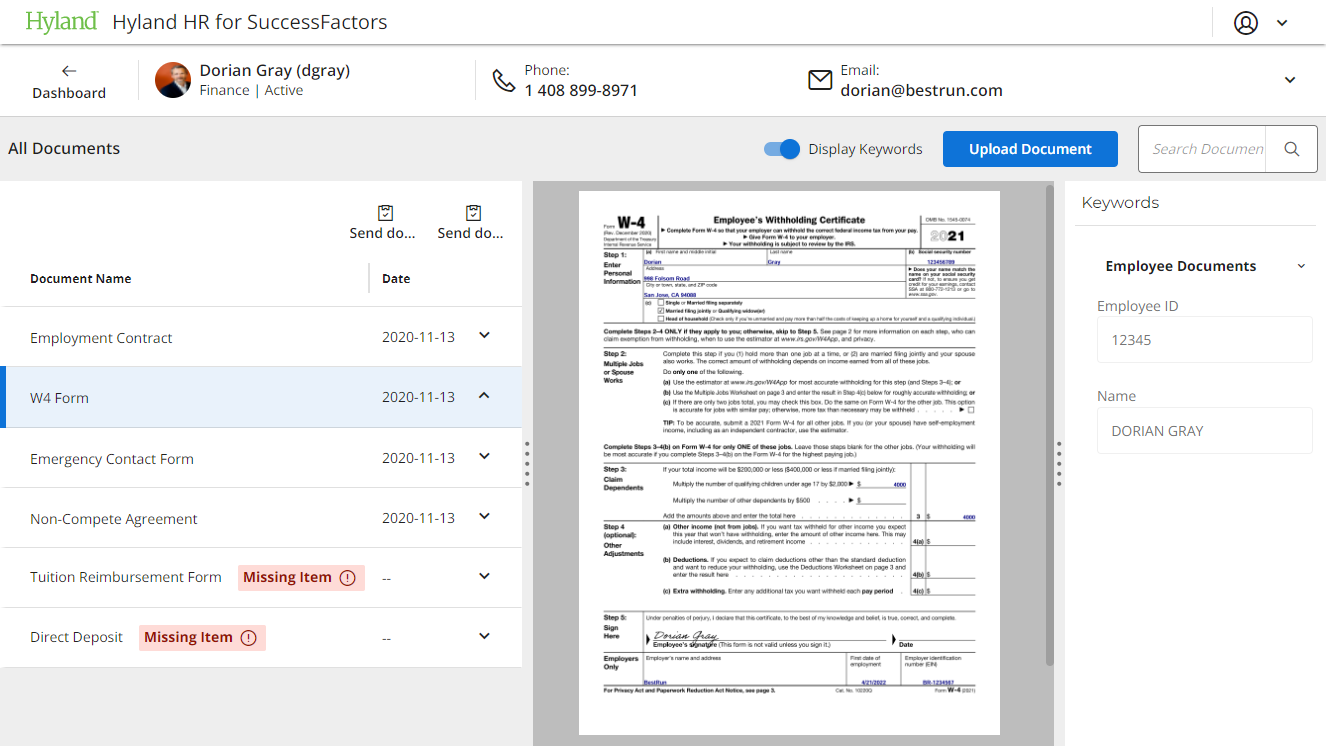 The list of documents shows a preview, related keywords and flags missing items with a visual notification.
In addition, Workflow ad-hoc tasks can be executed to move HR processes forward.