Integration for Salesforce
Summary
The OnBase Integration for Salesforce® provides an intuitive way for users to access content from their Salesforce screens, while providing an industry-leading content services platform that features flexible document management, granular security and retention. Users have seamless access to content services capabilities like document import, search and workflow directly from Salesforce interfaces without overburdening their Salesforce solution with large files and associated storage fess. Configuration and mapping activities are surfaced within the Salesforce interface as well, tightly coupling the two applications.
Benefits
Easily reveal relevant content with an OnBase viewer embedded into Salesforce screens
Quickly find information within content libraries with filtered search results and sort options
Streamline document import by capturing directly from the Salesforce interface, eliminating the need to switch applications
Efficiently execute tasks and move processes forward with OnBase Workflow features inside of Salesforce
Reduce manual indexing by mapping Salesforce data to OnBase keywords to populate automatically
Simplify integration, administration and migration with built-in configuration, reducing custom API development and ongoing maintenance costs
Design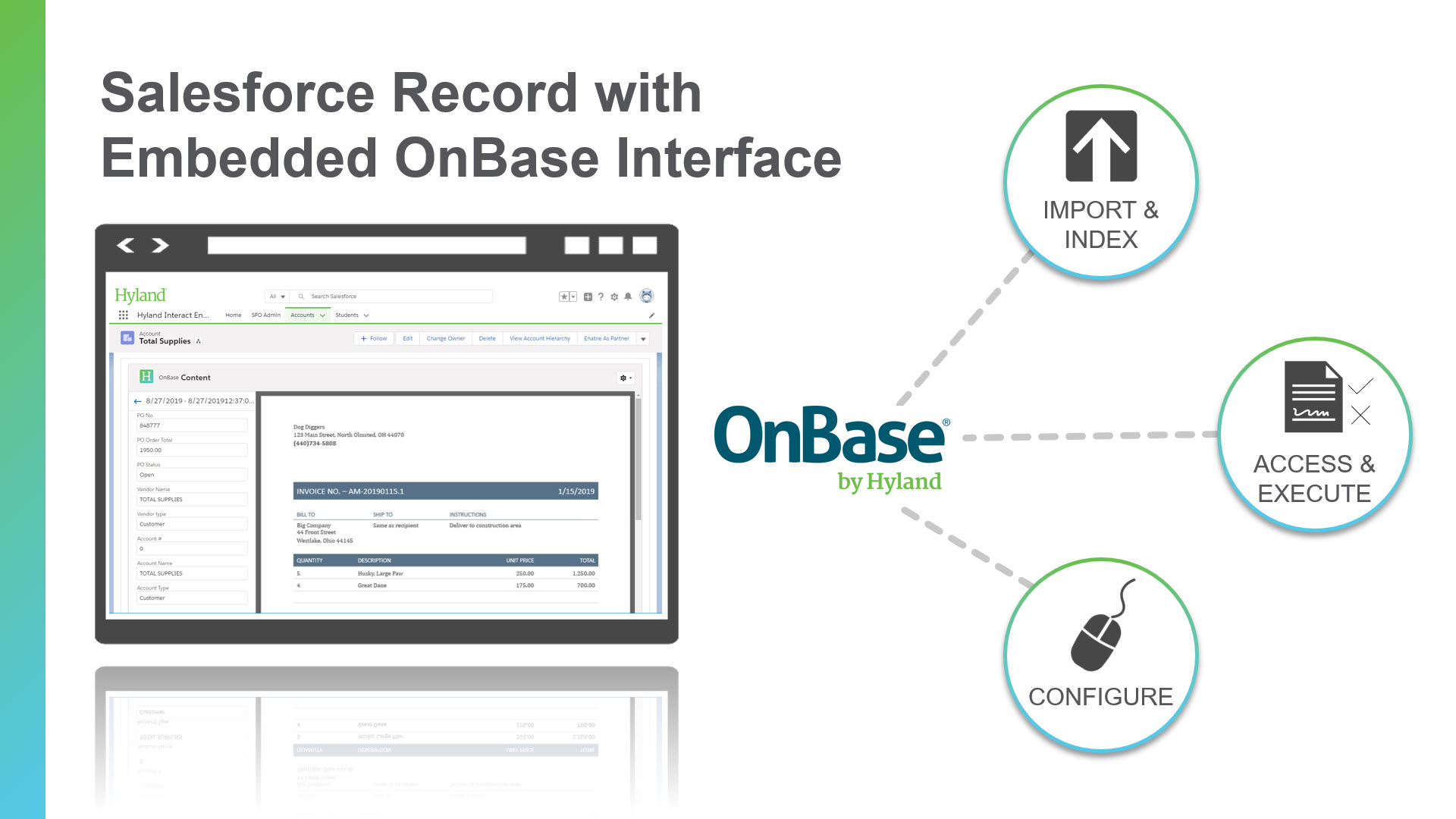 The OnBase Integration for Salesforce provides seamless access to OnBase functionality from Salesforce screens.
Applications
Customer Relationship Management: Salesforce manages customer data records and OnBase easily manages high-volume transactional documents associated with customer accounts. By integrating Salesforce and OnBase, customer documents are shown alongside the data and activities that are tracked within Salesforce, creating greater visibility into customer accounts and allowing your employees to respond to requests more quickly.
Vendor Management: Unify your vendor contracts and requests with the Salesforce record that your employees interact with daily. Increasing access to these documents promotes confidence in making informed business decisions. It also strengthens relationships between your organization and your business partners by decreasing the time it takes for employees to respond to issues that arise.
Sales: Allow your employees to focus on converting leads and closing deals instead of searching for content related to prospects and existing customers. The OnBase Integration for Salesforce can provide access to contracts, invoices, payments, and more, so that your employees don't have to dig for copies of information when answering questions or making decisions.
Interface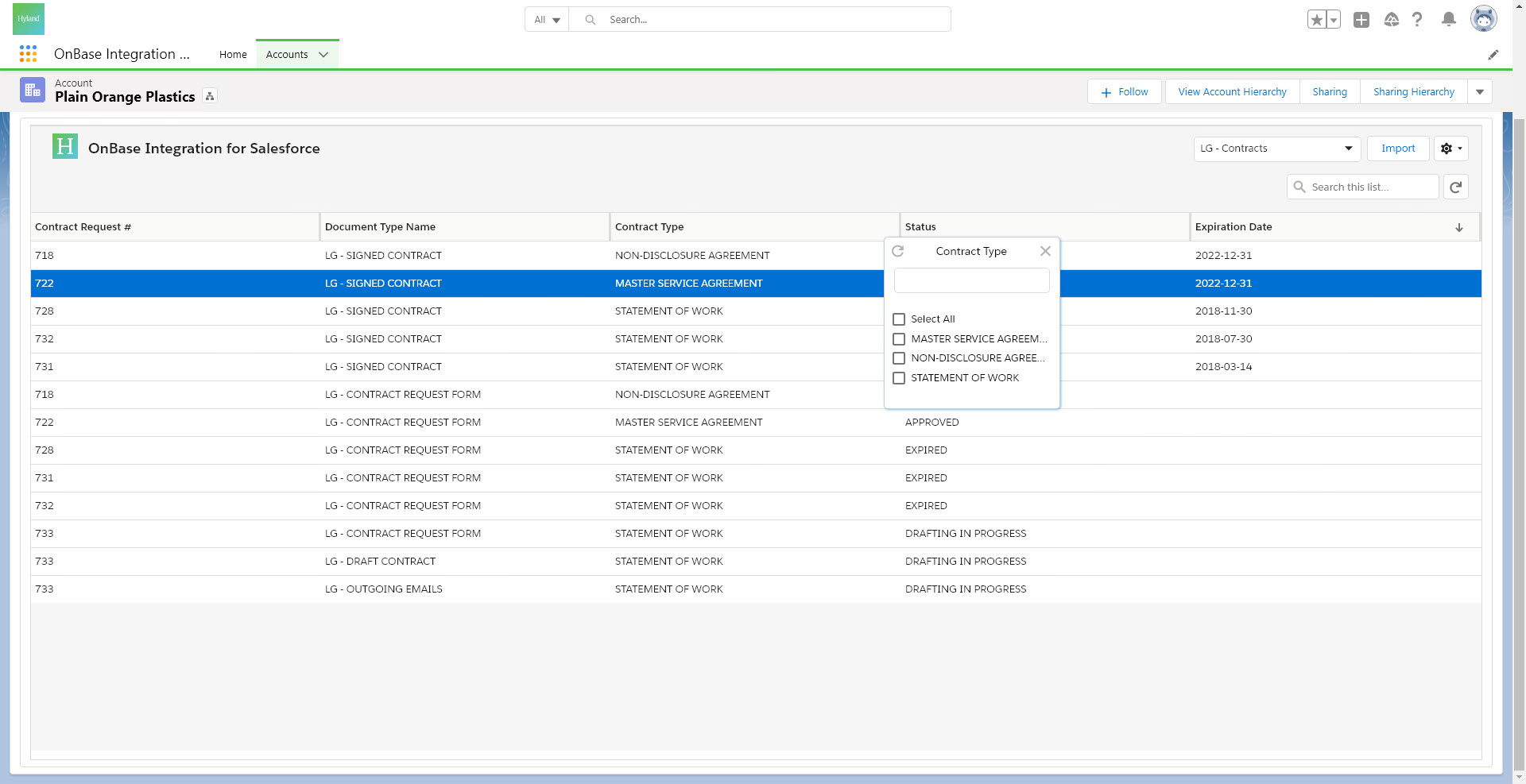 Access related content in a list view that supports sorting and filtering to pinpoint the exact document quickly.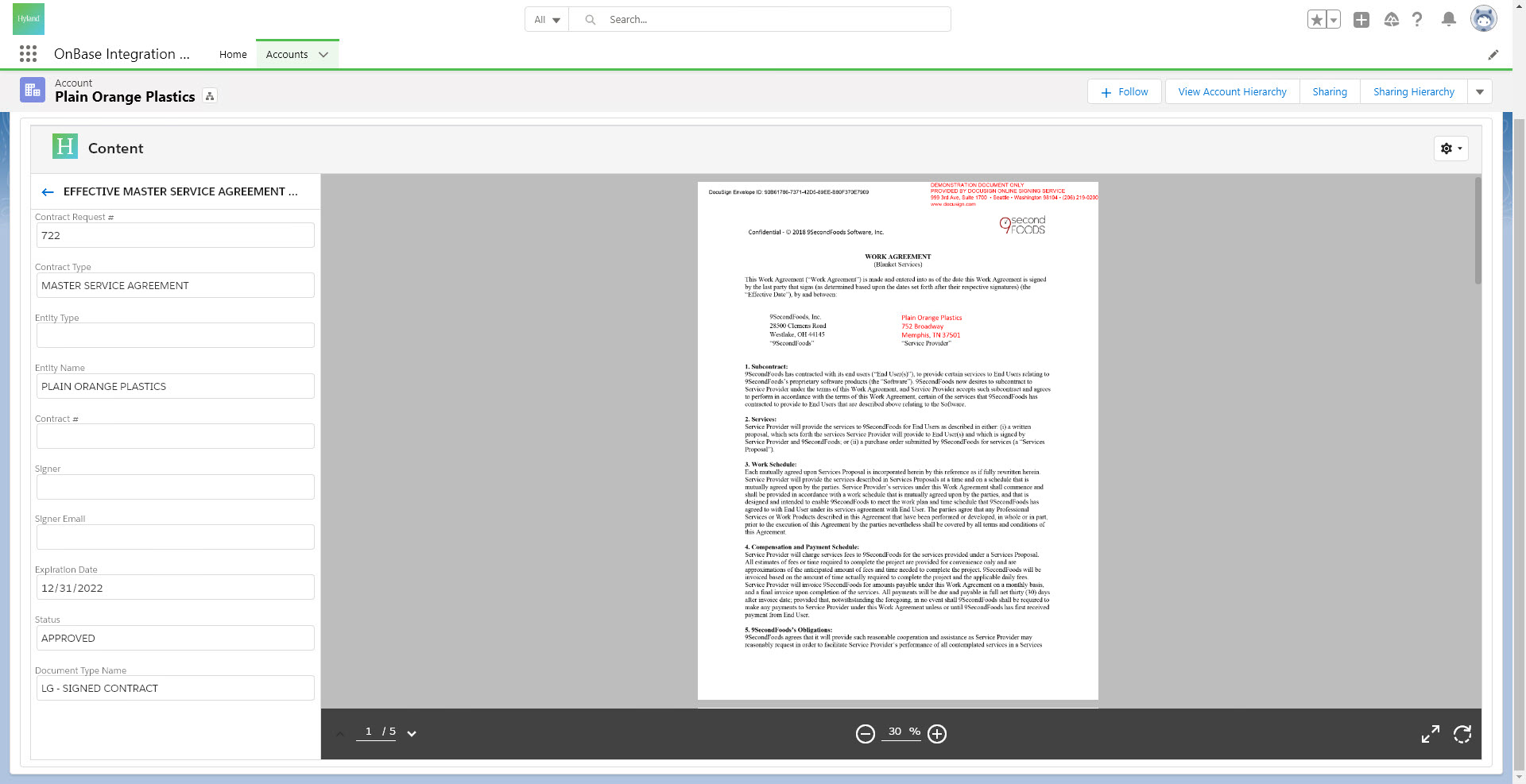 View documents and associated keywords seamlessly within the Salesforce interface.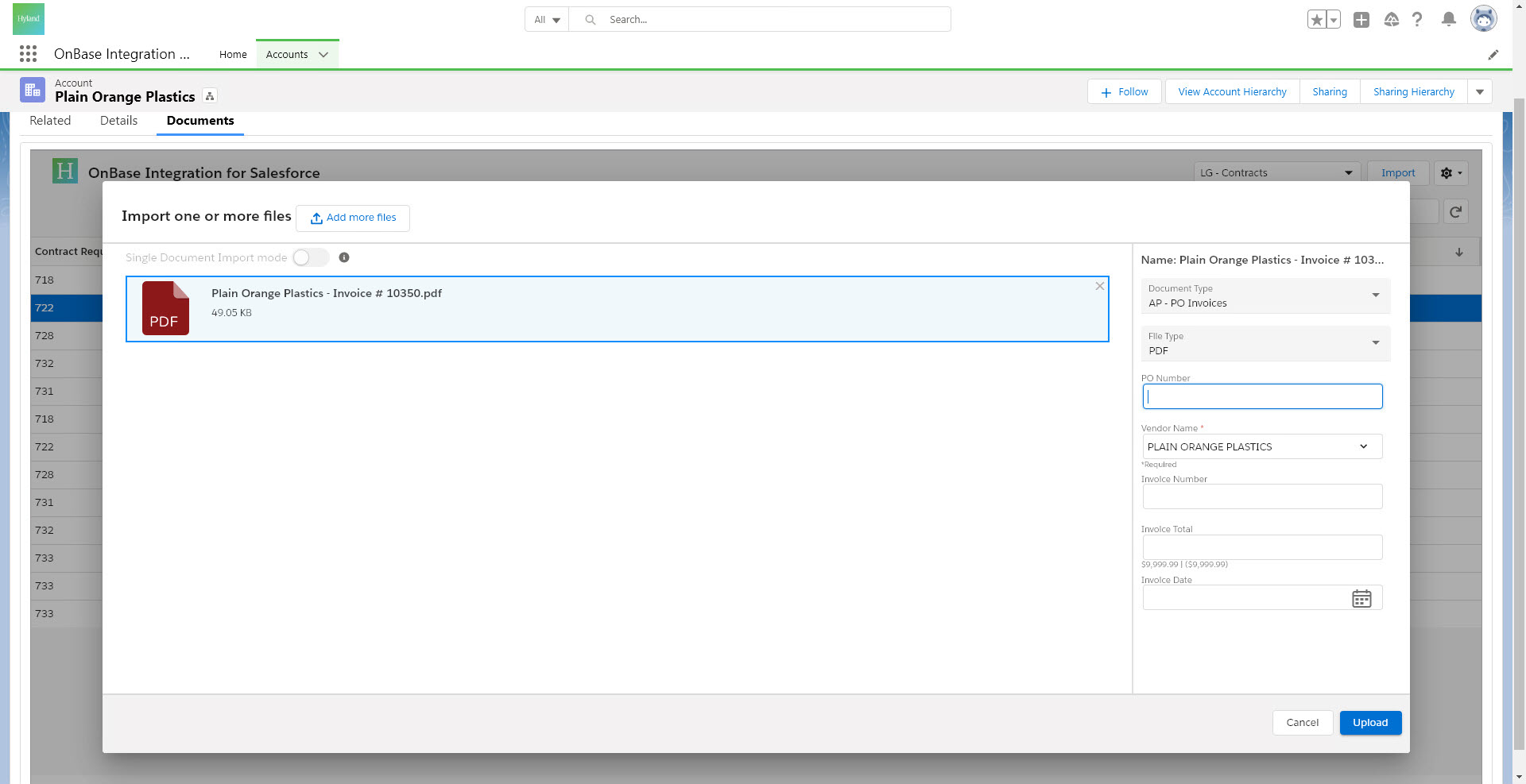 Import dialog allows the capture of electronic documents with automatic indexing using values from the Salesforce record. Users may also enter data manually, or default values may be set.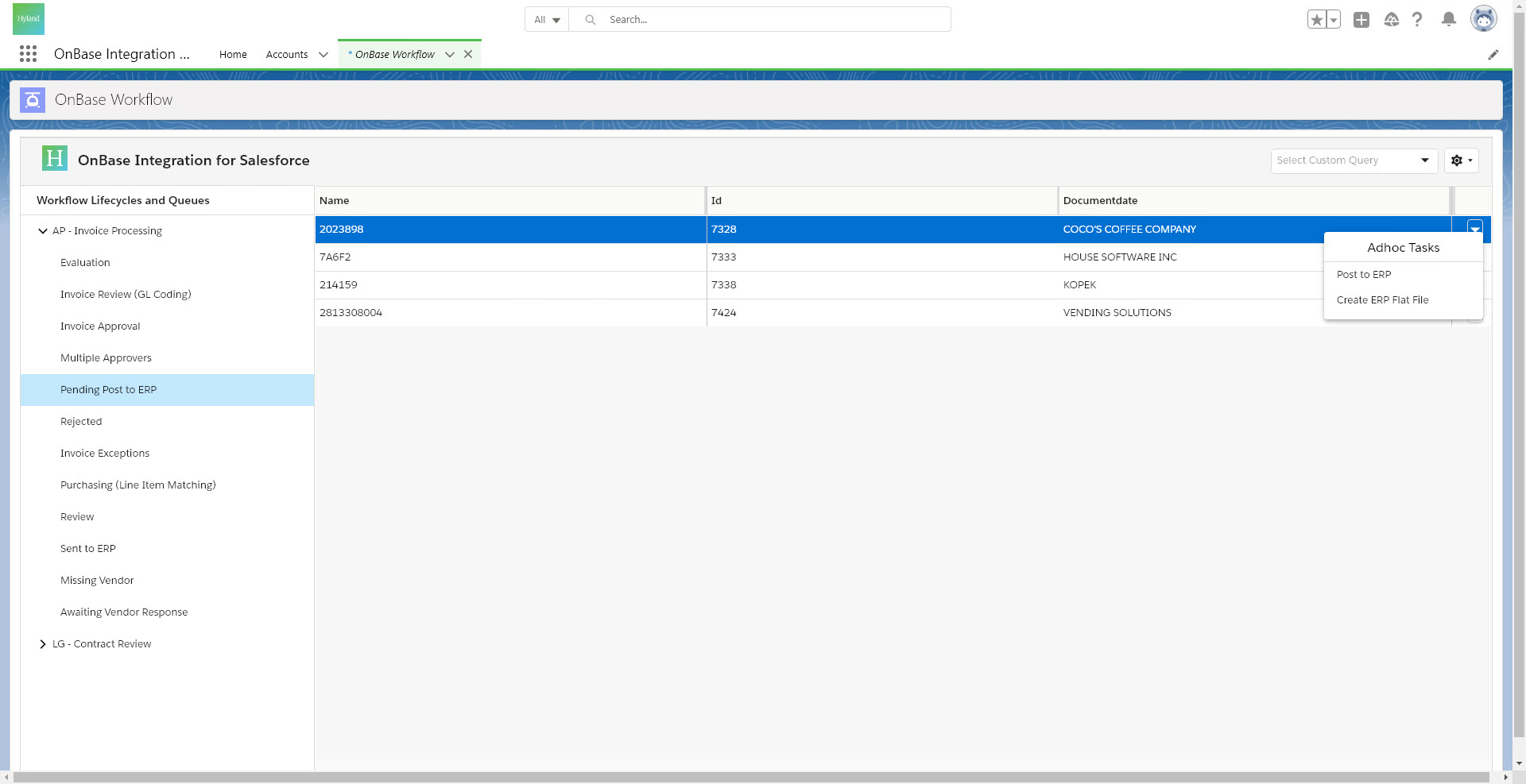 View Workflow Lifecycles and Queues, with ability to execute ad-hoc tasks (that do not require user interaction).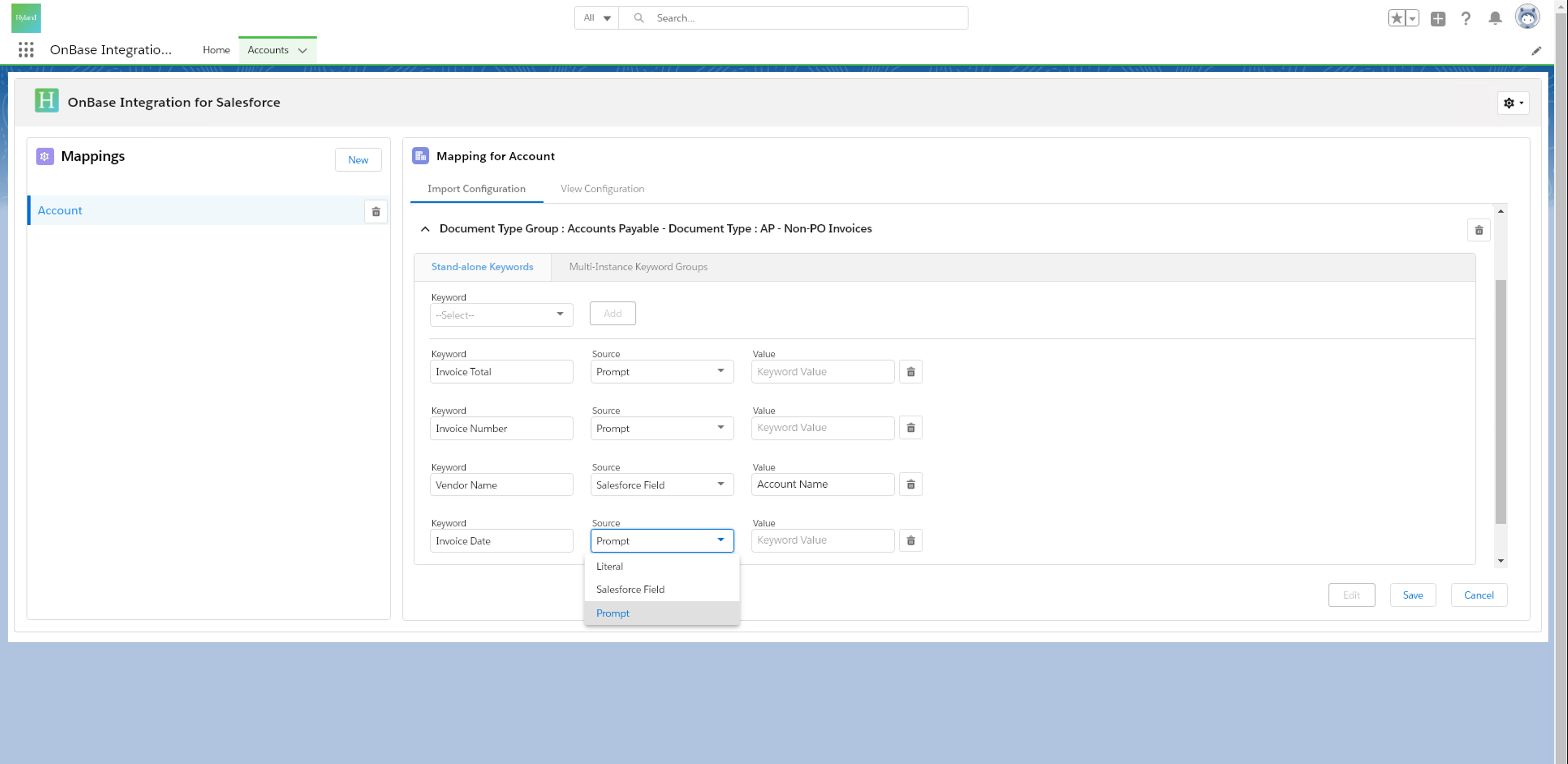 Built-in configuration allows administrators to set up the integration from within Salesforce. Salesforce values may be mapped to OnBase keywords to facilitate indexing and provide seamless search functionality.