Document Import Processor
Summary
The OnBase Document Import Processor (DIP) provides the ability to automatically import, classify and index high volumes of documents, regardless of electronic file type. DIP is typically used to process output from external scanning services, legacy applications and third-party capture systems into OnBase. Powerful configuration and flexible scheduling options allow DIP to import from any text formatted index file and perform unattended processing during off-peak hours.
Benefits
Automatically import and index high volumes of documents regularly output by other systems
Eliminates manual re-indexing, resulting in cost savings and improved data accuracy
Leverage investments made in existing systems, through the automatic import of the content they generate
Minimize costs of conversion from a legacy application repository or a third-party capture system
Hardware-independent solution allowing high-volume capture regardless of output source
Design
A business system, such as an outsourced scanning service, legacy system, or capture system, can output documents, along with a coordinating index file, storing them in a network location. The OnBase Scheduler, set to run during off-peak hours to maximize system performance, imports these files and their index values via the Document Import Processor (DIP) directly into OnBase, making them immediately available for retrieval and processing.
Applications
External Scanning Service: A smaller organization has chosen to outsource the scanning of their documents to an external or third-party provider. The paper documents are sent off-site to be scanned and indexed. These documents are then returned electronically via secure FTP and automatically processed into OnBase completely indexed.
Capture System Migration: An organization with a high volume of documents has invested in a third-party capture tool. The OnBase Scheduler is used to automatically import all of the documents captured along with the indexed values. The employees remain in a familiar capture application while the organization uses OnBase to manage every document captured.
Legacy System Conversion: An organization moving to OnBase has documents existing in a legacy application that must remain accessible. All of the documents within the legacy application, including images, text files, and Microsoft Office documents, are quickly and efficiently imported and indexed in OnBase and available for immediate retrieval.
Interface
A batch of various files brought in as one process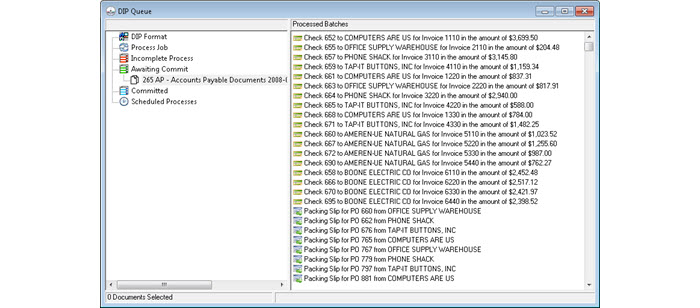 Two Sample Index Files